TENNIS PLAYER DEVELOPMENT DONE RIGHT
This is a serious player development program with emphasis on good CHARACTER, TECHNIQUE being corrected, FOOTWORK and STANCES being made perfect, high percentage winning STRATEGY being used correctly, hard PHYSICAL training, proven MENTAL TOUGHNESS programs being implemented and TOURNAMENT planning and periodization.  Weaknesses are corrected, weapons are developed, and players are educated.  This is not just a large sparring session.
As part of this goal, we have an established partnership with Novella Prep, where your athlete will learn to thrive in the classroom while exceeding expectations on the court. Learn more about this partnership.
This is not a hope and a prayer to get better....
……This is a program by a world experienced coach with a 39-year strong record of producing pro players, pro titles, ITF junior titles, 100s of College Scholarships, National titles, La Petit As champions, being a 5-year National coach of a country, Captain of Davis Cup and Federation Cup Teams, as well as educator of coaches for many tennis organizations.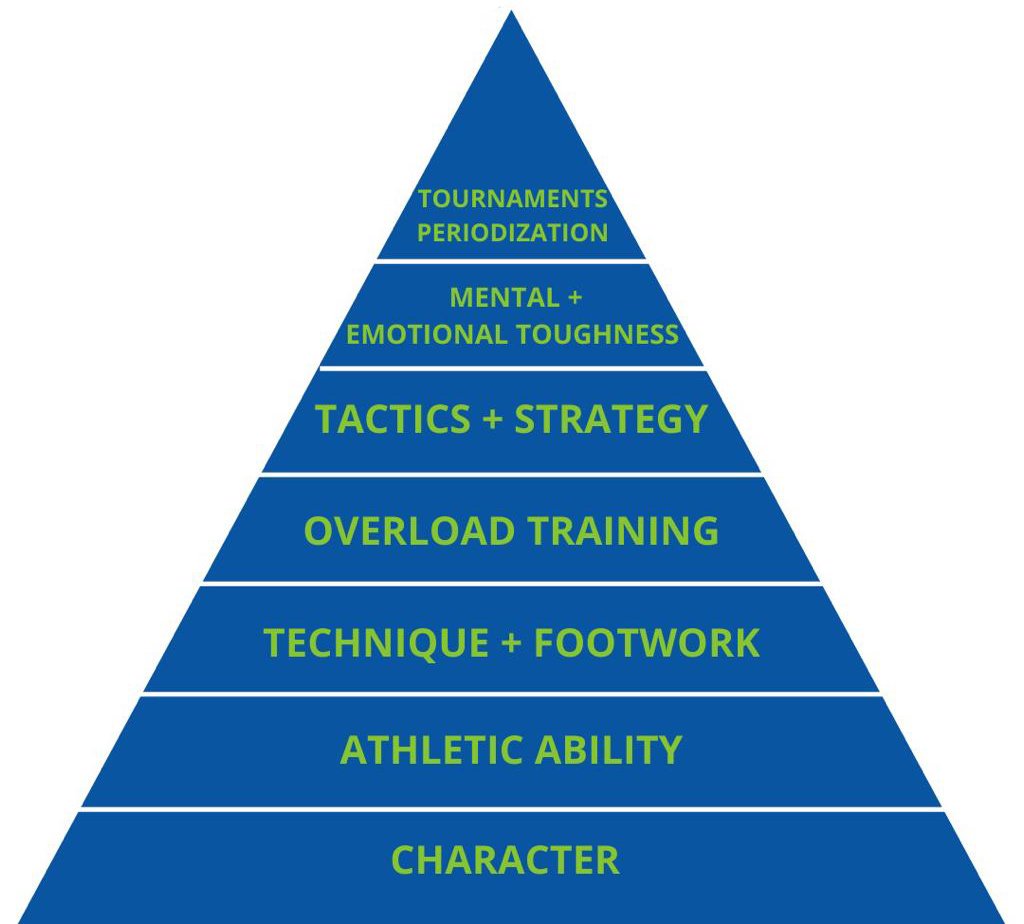 Hard courts – State College of Florida, Red clay – Sarasota Tennis and Fitness Center.
Two training blocks in the mornings. 20+ hours of training per week excluding tournaments. Monday, Tuesday, Wednesday – double blocks, Thursday, and Friday single block 3 hrs. Rain days will be made up. Monday/Tuesday/Wednesday 7:30am – 9:45am and 11:30am – 2.00 pm. Thursday 7.30 -10.30. Fridays 12.00-3.00 pm. Saturday morning training on request or no tournaments.
daily individual fitness workouts at SCF workout area or Sarasota Tennis and Fitness. Fitness with individual focus.
Individual tournament plans. These will sometimes entail international travel. Travel teams will be encouraged.
Tournaments will be held on weekends.
Weekly on an individual basis. In-person or video calls.
18 and over housing provided, minors housing upon request.
We expect players who train with us to commit to our process. Trust the process, – training and individual tournament schedules.
by request after consultation. 20 players maximum
Attitude, Training, Results
With over thirty two years in player development in over 70 countries, we have accrued proven principles, techniques and frameworks for transforming contenders into champions. Over the course of my journey, have produced junior Grand Slam Champions, La Petit As Champions, National Champions, Pro Circuit winners and worked with over twenty top 100 tour players. Additionally ran a countries National program, and been a Junior Davis Cup and Junior Federation Cup coach and Davis Cup and Federation Cup Captain.
Jim McGarry
"As a tennis professional with over 20 years experience in coaching players of all levels, Ashley Hobson of Hobson Performance Tennis stands tall among all who I've worked with and recommended over the years. He is simply the most engaging and passionate coach I've ever worked with or known. He makes his students feel they are the only pupil, and his life depends on them improving their playing skills.
In only a week, he literally transformed my 8 year old student's game! Yes, 8! She loves tennis, but had some athletic flaws that Ashley immediately noticed and addressed. We worked on those flaws in preparation for her upcoming tournament after we left the facility. She played her first tournament, a Little Mo Qualifier. She drew the 1st seed, and won the first two games, prompting the parents to inquire about her. They were stunned to learn this was her first event. Although she lost, she played fearlessly, and I credit much of that to Ashley's coaching precepts.
Ashley determined that she had a few glitches in her game, pinpointed them, and then set about to shore up those weaknesses, all the while making the process fun and valuable. Her game improved dramatically as a result. Ashley is a top tennis trainer of elite junior tennis players. I highly recommend him to anyone who is truly serious about providing their child with the best training they can find anywhere on the continent! As a side benefit, the Atlanta area is a hotbed of serious junior tennis play, so your child will find training and match play of the highest caliber at Ashley's facility!"
Paul Newman
"I have been coaching for over 19 years now and teaching has taken me all over the world to countries like, Caribbean, Canada, USA, Costa Rica, Bahrain, Czech Republic and Australia. I have seen many clubs and academies and i am very confident to say that Hobson Performance Tennis is right up there with the best. I recently took my player for a two week experience of Hobson Performance Tennis and the trip was so productive for me as a coach and more importantly for my player. The professional set up, the high quality coaching, the encouragement and motivation mad the experience priceless."
Thomas
"My son attends a…rival…tennis academy, and has had occasion to play a couple of Hobson Academy players in both singles and in doubles. You should be aware that the Hobson players, regardless of skill level, are two of the best sports I've personally seen. Ever. In any sport. Both make calls that are exceedingly fair. I don't hear them complain or fuss. Their sense of fair play far exceeds their years, and reflects extremely positively on your program. I've heard many parents fuss and complain over the last year about tournaments and this and that, and, well, I just wanted to take a moment and reflect on something that's "right" about the sport."
Sue
"Both children have been immersed in this "tennis world" for the past two years. I have seen what is available and know that Hobson Performance Tennis carries a reputation of setting lofty goals, working hard, being respectful and disciplined not only towards the game, but as an attitude towards life's goals in general. Our American youth are drowning in a culture of self-absorption and immediate gratification many times in meaningless endeavors. My husband and I appreciate all that you do to set a different "tone" at the academy."
Ed
"My son has also in the past attended one of the best known tennis academies in Florida. His Hobson experience was far better. He got lots of personal attention at Hobson. They know my son and care about him and that makes a big difference."
Hilton and Gayle
"We have come to know Ashley as an outstanding mentor to both our boys, dedicated to extending each individual in his squad of players to his full potential. Our oldest son was ranked #178 in Georgia when starting at the academy and within the space of one year jumped to #6 in the 18s. Ashley accomplishes the high standards he sets himself, is effective, very disciplined and has great integrity, whilst at the same time relates well to his players."
Stephanie
"Thanks for what you all have done for both my kids! You have a wonderful program. It says something about the program when the kids don't have to be told to go to practice. They want to go and look forward to it and to have something that teenagers look forward to other than socializing says a lot for the academy."
Erich
"I want to say thanks to you and your staff for such a great job you doing with the kids. Marcus likes it a lot not only because of the great tennis instruction but also because of the whole atmosphere and the attitude and personalities of all the other academy members. We got 2 weeks of driving across town behind us and it is well worth it!"
Tyler
"I wanted to thank you for the few summers that you and Dawn watched over me. You were somebody I really looked up to and were like a second father to me during those times. You improved my tennis game but even more importantly my character, my attitude, and my discipline. The time I spent at your academy was truly the most enjoyable of my tennis career. I only wish I could have spent more time there with you and Chris as my coaches."
Dan O'Connell
"In the 1970s, when I was a Peace Corps Tennis Coach in the Kingdom of Lesotho (Africa), I was lucky to meet the Hobson family. Mike and Wendy Hobson were dear friends and their three talented tennis playing sons were my students. In 1990, I was delighted to arrange a scholarship for Ashley to attend Van Der Meer University. Like all coaches, I take great pride in the success of my former students. Ashley has proven to be one of my most successful students as today; he is one of the best coaches in the USA.
Over the years we have kept in touch as Ashley, his family and I shared some special times during my fifteen year career in Africa. I know firsthand that Ashley is like his parents. Before tennis success, Ashleyís first concern is the well-being of the person. This indeed is a reflection of his parents who went out of their way to make sure of the well-being of a homesick Peace Corps Tennis Coach (me)! My wife and I feel fortunate that our son has twice had the opportunity to visit America and train with Ashley. I am thankful for my friend Ashley, as he (and his wife) made a life-changing impression on my son during the times he lived in their home. I know Ashley Hobson can create champion tennis players, but more importantly you should understand that Ashley has a unique way about him that develops champion people."